United States: Outsourcing Statistics [2022]
30/09/ 2022 | USource Team | Outsource
Aside from oil and gas, BPO is one of the world's largest revenue contributors.
The global outsourcing market earned $92.5 billion in 2019. And industry experts expect a whopping $122 billion in revenue by the end of 2022. With huge investments in the industry, the United States utilized outsourcing as a business strategy.
Despite the threat of the pandemic, outsourcing remained resilient. The global IT outsourcing market expects revenue to reach $397.6 billion in 2025.
And there are more interesting statistics about US outsourcing.
Top Outsourcing Statistics for American Companies
The US generates most of the projected $122 billion global outsourcing revenue.
37% of small businesses outsource at least one business process.
Outsourcing to the Philippines cut 70% of costs
Outsourcing Statistics in the US
300,000 jobs every year

US businesses outsource 300,000 jobs to developing countries for access to a large talent pool while cutting costs. In 2015, companies outsourced more than 1.43 million workers. Global BPO expects the United States to generate most of its revenue.
58.8% of businesses believed COVID-19 has no impact on outsourcing

During the pandemic in 2022, 58.8% of US-based marketers believed that the pandemic did not affect their outsourcing processes. On the other hand, 19.4% saw an increase in outsourced marketing activities.
Hybrid working arrangements with proper utilization of communication and project management tools contributed to a smooth-sailing digital transition.
Cost-cutting is the major motivation for outsourcing

Digital experts from the Philippines, India, and Mexico can compete with their peers in US metropolitan cities, but US-based professionals ask for higher rates in proportion to their cost of living, which is significantly lower in developing countries, which in turn leads to competitive rates. In the IT industry, 45% of companies outsource to save money.
Developing countries also benefit from Americans outsourcing specific tasks. In the Philippines, 10% of the annual revenue comes from BPO.
US-based companies outsource to lessen unnecessary expenses in resources. Established service providers have the tools and software needed for tasks.
Aside from cost reduction, motivations for outsourcing include:
Standardization and efficiency of processes
Driving business value
Digital agenda acceleration
Developing capabilities
Overall business strategy and plans
68% of US-based companies outsource
68% of US firms outsource at least a part of their businesses with the healthcare industry as one of the outsourced industries to date. The IT outsourcing industry can earn $131 billion of the expected $144.8 billion BPO revenue in 2022.
More than 44% of US technology executives report that they are more likely to use outsourcing options than five years ago
The IT Industry thinks positively of outsourcing software application development at 64%. 51% of technology executives outsource applications and software maintenance and 40% outsource data centers.
Service providers offer access to tools and software against threats in cybersecurity. They invest in data protection and the latest automation ideal for technology functions. 83% of IT leaders are looking out for managed service providers to outsource security needs.
Small businesses
In a survey of small businesses, 90% plan to outsource their business tasks in 2022.
Popular outsourced services include:
Accounting and IT services
Digital Marketing
Development-related activities
Human resources
Customer support
Payroll services
15% of companies with less than 2500 employees fully outsource payroll services. Small business continues efficiency with the help of remote third-party service providers.
Of the 500 US organizations surveyed, 80% outsource with the following objectives::
To access flexible resources (33%)
To improve their efficiency and save time (27%)
To work with an offshore expert (26%)
To support business growth and scalability (19%)
Businesses with 50 or fewer employees are less likely to outsource than companies with more than 50 employees
23% of small businesses consider the cost of working with an outsourced team expensive. In 2022, 21% said they are challenged when communicating with an outsourced team, 14% are unsatisfied with agencies who fail to meet deadlines, and 12% said their hired providers did not follow instructions.
At USource, some of our clients are small to medium enterprises. We have standardized processes to streamline communications and work output, making sure we satisfy every client's brief and deadlines. As an SME ourselves, we understand the importance of every hour in a business's productivity and profitability.
Small businesses' positive outsourcing experience
93% of small businesses had a positive outsourcing experience, and 83% plan to continue outsourcing for its overall benefits.
21% stated that an outsourced team has greater flexibility and helps businesses adapt quickly to changing consumer behavior.
Outsourcing frees up employees' time for other projects and 19% believed that it aided in the increased efficiency in their business core.
16% of businesses outsource to increase available resources and 10% outsource to receive help and guidance from an expert.
India, the Philippines, Ukraine, and Mexico give better tax incentives for US companies. Their average salary is also lesser than hiring and training in-house employees.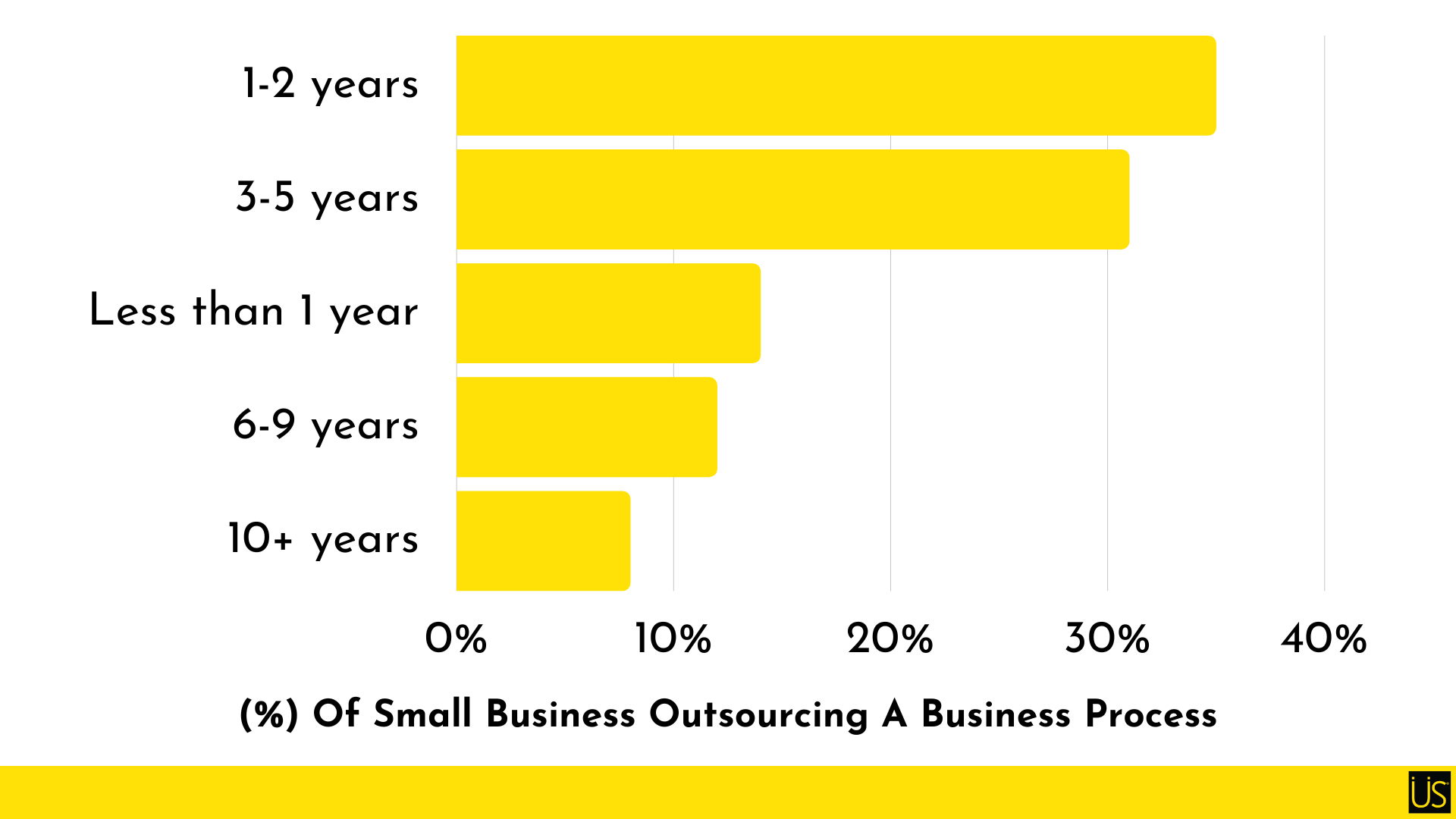 Industry stats on outsourcing
Software Development, Accounting, and IT Services are the most in-demand tasks outsourced by US small businesses
US Bureau of Labor Statistics predicts 31% employment growth in software development – the most in-demand profession in the IT sphere.
Other outsourced marketing activities include:
Customer support, back office
Tech support and IT-related services
Healthcare and Accounting
Digital Marketing
Retail and financial services
Freelancing or the gig economy is rapidly growing in the Philippines with a 35% growth in earnings. The country placed sixth as the fastest-growing freelancing market with 1.5 million Filipinos signed up on several freelancing networks. They are in demand overseas, particularly in the United States, United Kingdom, South Korea, Hong Kong, and Taiwan.