A Quick Guide on Marketing Automation Tools For Small Businesses
2/12/ 2016 | USource Team | Digital Support Staff
Marketing automation technology is simple and profitable, but while many digital inbound agencies are making the most of the technology, small to mid-size businesses (SMBs) shy away, intimidated by the complexity and the fees.
This guide uncovers what marketing automation platforms do–and how much they cost.
To win back the time you can otherwise spend on your business's growth and core services, you need to funnel tasks into elimination, delegation, or automation.
SMBs eliminate and delegate tasks easily enough. It's the automation part that can seem complicated to startups, especially when it comes to marketing automation tools, which are also paid tools. Are they worth the money? Which one is right for you?


Marketing channels continue to become more segmented and granular– it covers everything that gives your business an edge in its audience intelligence and reach: paid adverts, SEO, email, mobile, content creation, and social media, each of which has its own rules and specific techniques.
You maximize your business's potential by putting together a team, or one specialist, in place for each marketing segment.
But even then, you'd still have skill or talent gaps. For instance, not many freelancers are pay-per-click (PPC) experts. Learning the intricacies of Google Adwords or Facebook paid to advertise is time-consuming and ongoing, so PPC specialists can be expensive. That's where marketing automation can help.  
Marketing automation covers the following segments:
How to Decide on Marketing Automation Tools

What do you need? Is your website getting traffic? Is a conversion funnel in place and functioning?
What marketing outreach would be most effective to increase awareness and connection with your targeted audience? Blog posts, paid ads, webinars, surveys, emails?
Do you need all of the above? Many marketing automation tools are all-in-one, but they also specialize, and it always helps to match your needs to the platform. When you do, you gain the following benefits.
Boost your team's efficiency and productivity

by combining all marketing avenues in one easy-to-use, easy-to-understand interface,

and/or fill talent gaps, wherever you and your team aren't seasoned specialists.

You also get rid of day-to-day, essential but monotonous tasks.
Jeff Bulas defines marketing automation: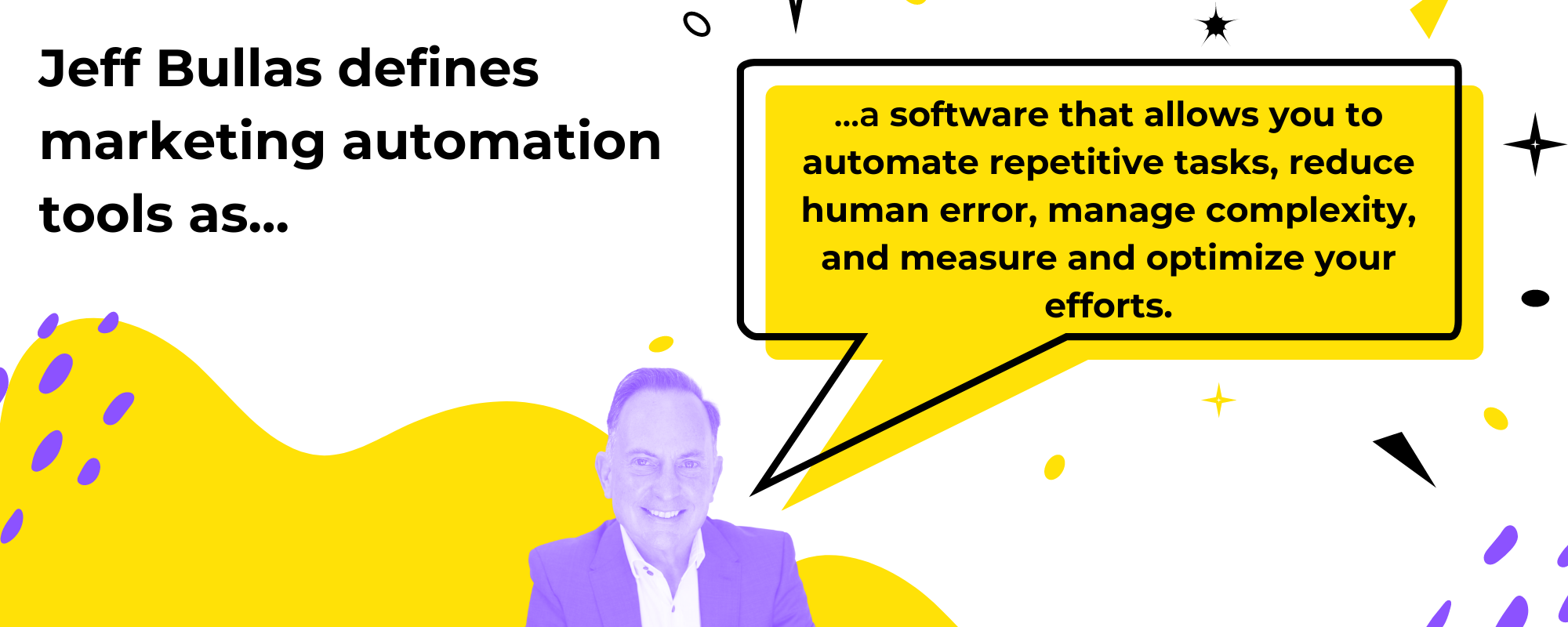 The Top Marketing Automation Tools for SMBs
Marketing moves your audience along your conversion funnel. It gets you in front of prospects (local search placement, PPC advertising, content promotion, SEO) and turns those prospects into leads. Lead nurturing goes into an email (in marketing automation, email is very important), website content, social media engagement, and ultimately, converting leads into sales.
Marketing automation tools automate parts of the whole conversion funnel and create reports on the results of each of these tasks so that you could put an ROI number on your efforts, and optimize for better outcomes.
Marketing Automation Insider has a comparison of the 6 top automation platforms, Hubspot, Ontraport, InfusionSoft, Marketo, Pardot, and Eloqua.
The Sales Lion has an in-depth review of Hubspot and InfusionSoft here. And a comparison of Marketo, Pardot, and Eloqua here.
All claim the "all-in-one" crown for automated marketing solutions.
Hubspot
Founded 2006. From a review in Sales Lion, "HS has one of the simplest content management systems I've ever seen. For those of you unfamiliar with this phrase, it's basically a system that allows 'Non Techies' to design their own websites with almost no previous programming or code knowledge. Such a tool allows business owners and their employees to overcome the terrible bottleneck of having a webmaster and ultimately take back the keys to their web marketing vehicle."
Hubspot helps you attract your audience through content with their Content Management Systems, which you can apply to your whole site, your blog platform, or just your landing pages.
A very robust keyword analysis/tracking tool

Inbound link tracking

On-page SEO

A blogging module(optional to users) that offers SEO guidance and analytical tools to show how your blogging efforts are generating leads. (From the Sales Lion)
InfusionSoft
Founded 2004. Arguably the most expensive, but the ROI seems worth it. Venture Harbour's review mentions reports of 310% increases in profit, growing revenue by 832% while tripling [entrepreneurs'] number of vacation days.
A CRM system that keeps a record of all of your interactions with customers

Pre-defined automatic, drag-and-drop marketing campaigns

Complicated, there's a learning curve, and a one-on-one demo and integration. If you prefer as few interactions with salespeople as possible, InfusionSoft might annoy you.
Marketo
Founded 2006, Inc. Magazine's 78th fastest growing business in 2012. Easy to use and set up, and the easiest to handle compared with Hubspot, InfusionSoft, Pardot, and Eloqua.
Drag-and-drop email design

User-friendly drip campaigns for content delivery at the right time in the sales process

System lags at peak load times.
Pardot
Founded 2007. Always lauded for its simple and intuitive user interface (UI). Like InfusionSoft, Pardot is on the side of pricey, but you can monitor all traffic activity, and manage and automate emails, campaigns, and client data.
Progressive profiling, powerful form design

Mobile compatible, WYSIWYG (what you see is what you get) email builder

Track every click, custom redirect links

A slightly steep learning curve in automation rules
Eloqua
Founded 1999. Eloqua has an updated lead scoring engine: your company can simultaneously run multiple scoring models, one each for various geographies, products, and more. A lead's score updates in real time according to behavior.  
Target segments and behavioral filters for email campaigns

Dynamic, drag-and-drop landing page builder

Social media integration

UI needs updating and can get too technical
Aeroleads
AeroLeads can automate your email marketing and lead generation process. If you are looking for a tool that can generate leads, integrate with CRM tools, connect with your social media platforms and improve your email marketing then AeroLeads is the only name you will hear. It provides the following benefits:
Custom dashboards, A/B testing, email finder, and email verifier tools are its unique features.
The sales intelligence and data import/export to the CRM tools are really helpful features.
If you are looking to run B2C campaigns, AeroLeads is the most reliable and affordable marketing automation tool.
Email Management
As previously mentioned, email is a huge asset if you handle it right, and the time consumption is just as large. It's essential to have email automation. Welcome messages, thank you messages, offers, and freebies– these work together to move your customer along the conversion funnel, and none of them should be neglected.
The following two tools are the most popular because they are the best.


GetResponse
Email creation

List booster

Email Intelligence

Landing pages

"Workflow builder" conversion funnel (welcome emails, discount coupons, newsletters, social media links in response to triggers)

Webinar automation

A/B Testing

Inbox preview

Starts at a monthly $15 (Email) and $49 (Pro)
Email Designer and Templates

Subscriber Profiles

Product Recommendations

Geolocation

Delivery by Time Zone

Inbox Preview

RSS-to-Email

A/B Testing

Multivariate Testing

Comparative Reports

MailChimp Mobile, Snap and Subscribe

Campaign Archives

Social Profiles and Sharing

Social Sharing

Pricing at free, and monthly $10 and $199
The Learning Curve of Marketing Automation
Most of the above tools have easy interfaces– that's the whole point of automation, after all. But some, like InfusionSoft, have steep learning curves.
Spend time to familiarize yourself, or hire a team who can set up and integrate it as they work for your business. Outsourcing the unfamiliar and focusing on your strengths is another point of automation.
The ROI– results and reclaimed time– is worth it.
Action Step: Plan A Marketing Strategy

Any of these marketing automation tools would only amplify what you already have as a marketing strategy. A strong marketing strategy gets strong results.
Meanwhile, a nonexistent or poor strategy would only be revealed by these tools. You won't get your desired results.
First, craft a marketing strategy. Find your strengths and weaknesses. Then, automate. And if you don't have the time or patience to go around the automation learning curve, outsource it to those who already know how to handle it.