Drop Servicing
5/12/ 2022 | USource Team | Outsourcing
While you're searching for a good online business, you probably see drop servicing as an option for earning profits. But how true are the promised earnings with less capital?
The term drop servicing can be compared to a more familiar term 'drop shipping.' But instead of selling objects, you sell a service. And whether you are aware or not, you encounter drop services in your day to day.
What is Drop Servicing?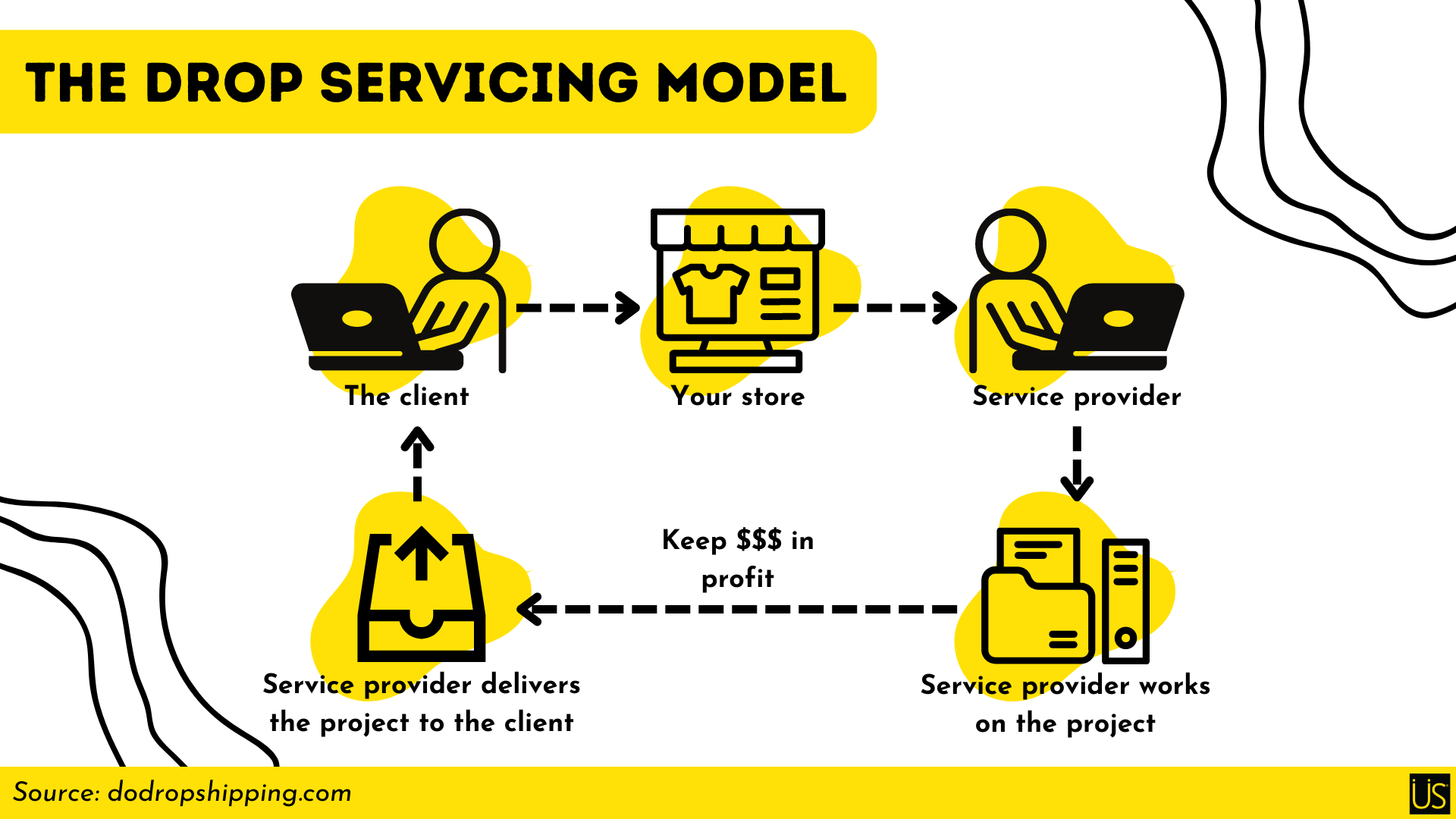 The pandemic accelerated the growth of online businesses. And digital options in payments and services increased its security and convenience. With being online as essential drop servicing is one of the side hustles or full-time opportunities that entrepreneurs can try.
What is drop servicing? By its name you can tell that you will likely drop a service. But how?
Clients always have something to outsource especially when it's a package. Say an aspiring singer is looking for someone to create an album cover for their latest single. You accept their order and forward it to another service provider communicating what the client wants from colors, fonts, and sizes.
Drop servicing can be a great entry-level business model where less capital is required. You sell in-demand skills. In simple words, you offer clients a service at a fixed rate and drop it to a person who can deliver it for a lesser price.
Why do clients need a drop service when they can post the job themselves on marketplaces? Well, it can create a lot of frustration for a client to find the best person to hire or the output that they want to achieve within their limited time and busy schedules. When this becomes an obstacle, a middleman, drop servicing setup makes sense.
Drop servicing and other business models
Drop Servicing vs. Drop Shipping
When searching for a profitable online business, you're more likely to find information about drop shipping than drop servicing. Both businesses collaborate with an individual or group to fulfill client orders. The main difference between the two? Drop shippers sell products while drop services sell services.
Drop shipping is a business model where you buy a product wholesale and sell it at a higher price. When your client orders something from your store, you send their details to the manufacturer. While you're communicating with the customers the manufacturer is shipping the product to their address.
It's easy to get started in dropshipping since there's no responsibility in the fulfillment and shipping process of the product. There is also a wide selection of products to drop ship. But the low cost of not having the product on hand is a double-edged sword for drop shipping. You have no access to the inventory. You won't know when they're out of stock.
Drop servicing can be less risky than drop shipping since there are no tangible returns or refunds in the business. Skills won't be out of stock. If there are not enough products or the manufacturer halts production, you cannot complete client orders.
Aside from dropshipping, there are other similar business models.
White Labeling is a business model where you place your brand label on a product or service manufactured by a third party. A perfect example is grocery stores. They place their brand name on products manufactured as theirs to increase their customer's lifetime value. White labeling can also be done with drop servicing, where the actual service provider operates under the brand of the drop servicer, the company that's in contact with the customer.
Service Arbitraging is buying a service for a lower price from a market and selling it at a higher rate in another market. You act as a service mediator who connects service providers and clients from different locations, domestic or international. This eliminates skill gaps in borders and breakthrough geographical limitations.
The benefits and challenges of drop servicing
Drop servicing has fewer risks than drop shipping because you are not reliant on a manufacturer that can stop their production anytime. But you still need to find a trustworthy service provider for quality and consistent service. If you don't, customers can still request refunds or fixes to the services provided.
The advantages of drop servicing include:

The high-profit margin on low capital: Your earnings depend on how many clients you find. Keep marketing and promoting your business for a steady income. You can DIY your website but it can't look as seamless as when you hire a web developer. Your marketing promotions can start on social media and build connections from there.
Recurring income: Unlike drop shipping, your service may have more stickiness to the revenue stream. Rather than a one-off say, it may continue for months and even years. If you provide quality service, your clients will come back for more projects. There's a broad option of service to drop with less maintenance. But you still need the capital to boost your business through marketing and advertising.
No return inconveniences: Unlike drop shipping, your clients can't return what they receive. In drop shipping, when a product is returned, you have to process an item refund, ship, and return the item. In drop servicing, after finishing the service you're free to move on to another client, but make sure the work is carried out as expected
No skill requirements: You need to understand the service you sell but you are not required to learn how to do things. When you outsource to a service provider, they already have the skills and the quality to finish tasks. From your side, you still need to persuade your clients to buy your offer by speaking as you know it.
But there are some disadvantages of drop servicing you need to look out for.

Challenges in finding clients: Especially when you are a new company, you need to persistently market yourself because clients always choose a known brand before a startup. Similar to every brick-and-mortar business, start by building connections and always keep promoting.
Finding a reliable service provider. There are some cases when a contractor abandons a project after achieving a 50% milestone. An alternative option for you is to hire an agency or outsourcing company to fulfill the service. Third-party service providers are there for you compared to independent contractors who may ghost you, and use your business as a stepping stone to a higher-paying client.
How to start with Drop Servicing?
Drop servicing is not for everyone. It's a misconception for new entrepreneurs to think using this business model that their job ends after they drop the service to a service provider who can deliver the tasks. The first thing to do is to understand what services you offer and fulfill your role as the 'go-between'.
You need to connect the client and your hired services. Make sure you clarify what the client wants and what your hired contractor can do. When your client needs a website, you can clarify their expectations. This helps your service provider to deliver quality work faster.
Assess the pricing, demand, and quality of the service before you choose to sell them. Tasks like transcript or data entry have a saturated market with low offers and minimal room for price increases. Here are some of the niches you can drop service for a healthy profit:
Niches to Drop Services
Search Engine Optimization
Quality SEO is marketable. You can drop service technical SEO, on-page SEO and off-page SEO, and link building to clients wanting to enhance their website. Sell SEO-optimized articles written for both humans and search engines or offer website reviews and SEO audits. Take advantage of the fact that every business needs domain authority.
Website Development
Sell something that will never be in low demand. Website development is highly sought after by companies of all sizes. Clients are always seeking programmers and developers who can help them build a website, fix a fault, customize code, create a plugin or create an application from scratch.
Social Media Management
Businesses need an online presence. Market social media management to clients looking for people to manage their Facebook, Instagram, Twitter, and other platforms to attract and retain customers, and increase their clickthrough rate.
Creative Content
There is more creative content to sell than templates as it takes more visuals to captivate modern consumers. Visuals can attract 40% more customers than texts. Services like photo editing, infographics, color adjustments, video advertisements, and gif creation are popular among clients who sell visual-reliant products.
You can also sell video-related services like video editing, YouTube intros and outros, and video creation. Aspiring singers and novelists also look for people who can make album and book covers. Market graphic design to make posters, illustrations, and layouts and drop these services to freelancers on marketplaces or agencies.
From creative, feature, and formal writing to SEO-optimized content, agencies and outsourcing companies write blogs and articles to amaze readers.
Where to find your service providers
You can find service providers with an easy search online or on popular talent marketplaces.

Start by doing your research; come directly to outsourcing companies like USource.
Upwork is the largest freelancing network with more than 12 million registered users. You can post your job and wait for freelancers to bid on the offer.
Fiverr has over 3 million services. Unlike other talent marketplaces, freelancers list the services they offer for as low as $5 and as high as $500.
Freelancer.com has over 21 million users from freelancers to clients. Similar to Upwork, you can post your job requirements and wait for a bidder to interview and take the task.
You can also find service providers who offer different services from graphic design, content writing, designing, to everything digital.
How we can help
Third-party service providers like USource help you start your drop servicing business from start to continued support.
USource will work as the middleman, a white label solution, so you can offer one or a mix of drop services.
Depending on the scope of your business you can offer one or all of these services in a white label, drop servicing capacity – Digital Advertising, SEO, Data & Analytics, Copywriting, Graphic Design, Development, Email Marketing, Customer Support, Social Media Management, Virtual Assistants, Ecommerce Support.
If selling digital services interest you, drop servicing is a good side hustle or a full-time business to try. With its low-level requirements, you can start by researching on the services you want to sell and understand its basics, then find someone who can deliver you quality like freelancers or a third party service provider like USource.