How to Be Great at Outsourcing and Virtual Teams
7/11/ 2022 | USource Team | Outsourcing
You want to hire virtual assistants but you're not sure if you can or should? Here's a handy checklist on how to stay ahead in the "remote revolution."
You want to be a good boss and you want more profit. That might seem like a tall order, but many easily manage it, which explains the popularity of the digital job marketplace. Everyone wins. The client–you– get more hours and use it where you need it most, and we, the freelancers, earn money right at home.
The catch is that while many of us love our freedom, not all of us are lucky enough to find a great job.
Definition of a great job:
Boss is smart, goal-driven and considerate
Communication reflects all three above
Real contribution to the business
Feedback on our performance
Some training so we could contribute more and better!
To be great at outsourcing and NOT lose money on premature engagement, check if you have all five of those points covered. The last one is especially for VAs. Skilled virtual assistants are lifesavers. Some are already knowledgeable in your field, but most only need some training to become a rockstar you'll rave about.
But how do you really find the perfect team, or VA, for you? Here's the checklist on how to outsource the right way:
Hire for the right reasons

For example, real estate virtual assistants make huge profits for their clients by taking on admin, marketing, and sales tasks that otherwise eat time away from closing sales. Real estate agents make money through closing sales, not by ordering property brochures, proofreading and updating listings, or seeing to the house staging!
Set clear tasks

Some clients copy and paste from other job postings to their loss. Some clients lump together several jobs that require different skill sets. Don't.
Some clients only make a laundry list of what they don't want. Er. That's negativity. Focus on the positive – what you need your freelancers to do, and what skills you need them to have.
A detailed job posting helps VAs self-select. They'd apply if they're confident they can do your task/s, and they won't if they're not qualified.
If you need a VA for admin tasks, get a VA. If you need a graphic designer for your website and social media posts, get a graphic designer. If you need content and captions for the same, get a writer. If you need WordPress or Weebly or Joomla customization, get a web developer.
Make a list of what you need done. If it's a lot, look into hiring a team like USource. Or simply hire as you move along, e.g., web developer first, and then graphic designer and writer, and then the VA as admin tasks start to roll in with the launch of your website/social.
Be realistic

Setting realistic expectations saves you money and time. It gives you and your freelancers a road to follow. Instead of wasting efforts on tasks that contribute little or have no contribution at all, having a set of fixed, measurable, doable goals will steer you and your freelancer in the right direction.
Assess your candidates

There is such a thing as workplace chemistry. Before hiring a VA, schedule an interview. That way you'll be able to communicate with him/her directly and assess if s/he is fit
for your work culture and values.
The interview also lets you assess how good a candidate your potential VA is. Would she need training? On what? And what about the essential soft skills every freelancer needs?
Don't stop learning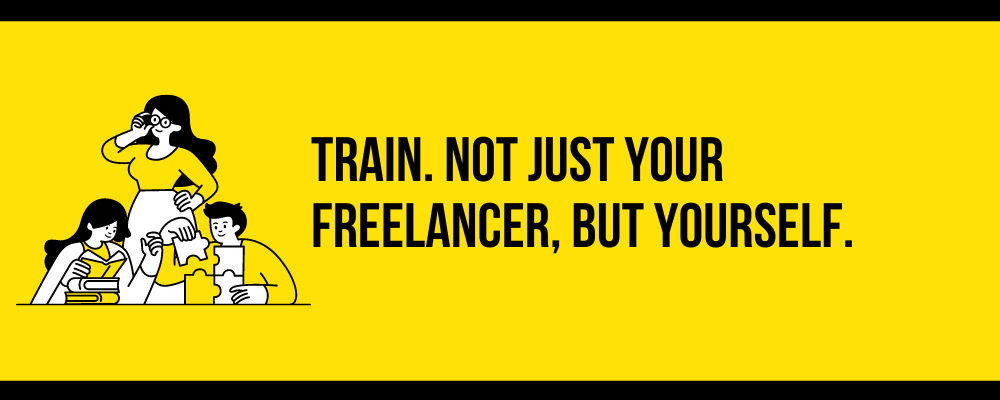 The advantage of working virtually is you have access to several useful tools. But you need to allot time to learn how to use them. Your VA's not the only one who needs to use the tools, you need to keep up with him/her too.
You might start out working together while online at Skype, but you discover Slack is so much better. Flexibility and an openness to discoveries make you a great client, and helping your VAs acquire new/more skills makes them not only more valuable and skilled but happier!
Virtual teams want a good virtual manager
After the outsourcing process, you finally have your well-built, talented virtual team working with you. But it doesn't end there. A virtual team needs a leader that'll guide them, and this is your chance to show you're the coolest virtual manager they could ever have.
Communicate effectively. Your virtual team wouldn't want to guess what's on your mind or misunderstand your words.
Don't micro-manage. Freelancers want to have autonomy over their work and time. Let them use their skills and talent.
Plan ahead. Your team will trust you if they see you have a plan: a reasonable budget, a calendar, and a list of tasks– these things make work easier for them.
Practice work-life balance. Remote work is already invading personal life as it is, and a work environment that prioritizes work-life balance is the ultimate dream.
Recognizes achievements. Positive feedback goes a long way. Freelancers are motivated when they confirm that their work contributes to the organization.
Outsourcing and retaining a virtual team is a wise investment to improve the growth of your business. Entrepreneur created a hilarious infographic about remote managers. See if you measure up to those fictional bosses. Combine the Pros, and avoid the Cons, and you're on your way to success with your freelancers.